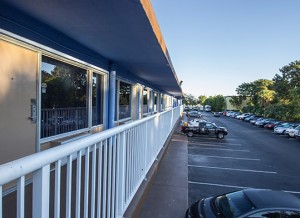 Check with your hotel about long-term cruise parking. While possibly less convenient than municipal parking, hotel parking can be less expensive than municipal parking.
Many nearby hotels offer parking as part of their cruise-package deals. Stay at the hotel for one night, pre-cruise or post-cruise, and you can park your vehicle at the hotel for the length of your cruise.
Some local hotels allow cruise parking in their lot for a fee, even if you don't spend the night. A handful of hotels close to Port Everglades offer free shuttles to-and-from the Port (as well as Fort Lauderdale International Airport).
If you consider parking at a hotel, questions to ask include:
How many nights stay to qualify for the package deal?
How many days parking included in the package?
How much do extra days of parking cost?
Where will my vehicle be parked?
Will I get to keep my vehicle keys?
Do you have on-site security?
Do you offer any extra services?
Do you offer a free shuttle?
Rodeway Inn & Suites Fort Lauderdale
($10/day, free shuttle)
954-792-8181
http://www.hotelftlauderdale.net/park-and-cruise.html