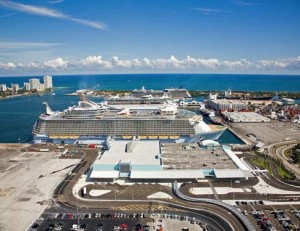 Parking at Port Everglades municipal lots costs $15/day. Oversized vehicles are charged $19/day. Garage parking and surface parking cost the same. While there are no shuttles from the parking areas to the terminals, there is plenty of drop-off space at each terminal.
The municipal lots at Port Everglades can accommodate 5,500 vehicles. Municipal parking at Port Everglades is divided into three sections based upon your assigned cruise terminal:
The Northport Garage (2,500 spaces) provides parking for travelers using Cruise Terminals #1, #2 and #4.
The Midport Garage (2,000 spaces), as well as Midport surface lots (400 spaces), offer parking for passengers traveling from Cruise Terminals #19, #21, #23/#24, #25, #26, #27, #28 and #29.
The dedicated surface parking lot (600 spaces) next to Cruise Terminal #18 is available only for travelers who use Terminal #18.
Park near your assigned cruise terminal, because there is no public transportation between parking and the terminals. Northport garage is located in the northernmost section of the Port, near the Broward County Convention Center. The best way to access the Northport Garage are port entrances on SE 24th Street (Spangler Drive, once in the Port) and SE 1th Street (onto Eisenhower Drive, once in the Port).
Travelers can access the Midport Garage and surface lots by entering Port Everglades either SE 24th Street or State Road 84 (Eller Drive, once in the Port). Likewise, Terminal #18 surface parking lot is accessed best through the State Road 84 entrance. The Port says it has plans to expand parking near Port Everglades by adding 2,000 garage spaces, but not for at least five years.
Port Everglades information: 954-523-3404